A week after his success at the Grand Prix du Morbihan, Julien Simon has put another victory under his belt by winning the 2022 Tour de Finistère.
A fresh success in Brittany
Brittany is decidedly propitious for Julien Simon. Yesterday afternoon he won his third Tour du Finistère (after 2012 and 2019). He now holds the record of victories for this competition, which counts towards the French Road Cycling Cup.
To pull off this latest win, the puncher from Lamballe broke away from the lead group in the difficult final stretch. Only Clément Venturini managed to keep close on his heels. But the Breton cyclist was relentless in his effort to shake off the AG2R Citroën Team sprinter.
"Confidence played a big part," Julien Simon told us the day after his victory. "I kept pushing to open the gap with the lead group to guarantee the two first positions. I had to pedal hard. Since I'd made a big push from far behind, we couldn't get past that huge effort, and that allowed me to win. Everything worked out really well. The boys did an excellent job. We were all thrilled yesterday after the race. We're having a positive break. We must make the most of it."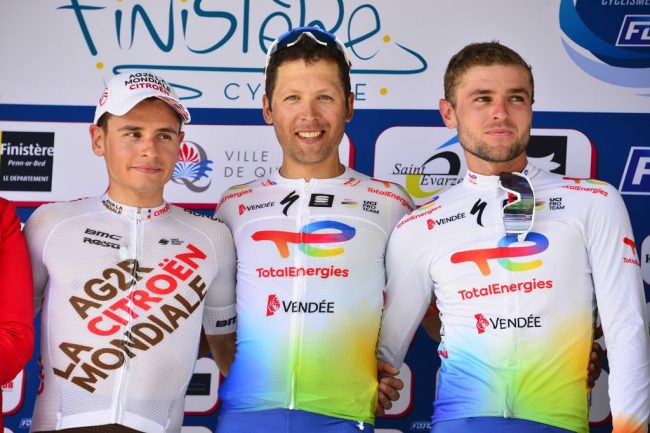 Sandy Dujardin also wins a place on the podium
And the icing on the cake: Sandy Dujardin also claimed a place on the medal stand, after getting the better of the group of pursuers with a sprint!
"I told Sandy that as a puncher he should seize his opportunity. It was fantastic for both of us to be on the podium."
The weekend's races continue today with the Boucles de l'Aulne – Châteaulin. It offers Team TotalEnergies another opportunity to achieve great things.
"The team's morale is high! We have the drive to achieve further successes together. We're all mates in the group, and we can race together with our eyes closed."
Watch the video of Julien Simon's victory