Anthony Turgis gave a larger-than-life performance last Saturday and the best result of his career, at a Monument race.
La Primavera
The Milan-San Remo, with its share of surprises, continues to leave a mark on cycling history as it does every year. The season's first Monument race is always a significant event for the peloton's heavyweights, whose dream is to be first over the finishing line in San Remo city center. Team TotalEnergies presented a strong team from the outset, with two linchpins, Peter Sagan and Anthony Turgis. The Slovakian racer, who had already carried off two Monuments, has never given up on the idea of one day winning the Milan-San Remo. Unfortunately for him, this was not to be the occasion. A mechanical problem close to La Cipressa prevented him from being at the forefront in the race's penultimate climb.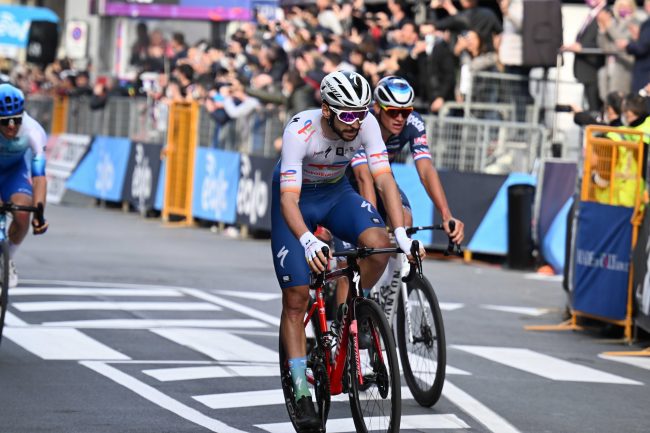 Turgis, on the verge of a masterstroke
Anthony Turgis came close to pulling off a masterstroke. The cyclist achieved an almost perfect race, which would have allowed him to score the greatest success of his career. But his hopes were countered by Matej Mohoric's mischievous attack, drawing away from the lead group just four kilometers from the finish. The Slovakian racer quickly increased his short lead to around ten seconds, enough to take him through to the end. The favorites did their best to catch up, but to no avail. Behind Mohoric, Anthony Turgis managed to find an opening, forging ahead at the red flag and finishing in second place. This was his best result ever for a Monument. Dutchman Mathieu van der Poel rounded off the medal stand.
"I had a good day"
Anthony Turgis spoke after the race. Disappointed that victory escaped him, he was nonetheless well aware of achieving an exceptional result:
"It's a pity because I felt I had the strength to make a recovery. Mohoric is one of the best for this type of race. I had a good day, in particular due to my team-mates' excellent work. I'm disappointed because first place wasn't far from my grasp. Quite simply, Mohoric was on top form today."