Julien Simon raced to victory in the Grand Prix du Morbihan on Saturday, taking the peloton's sprinters by surprise on the gentle rise in the finishing stretch.
A happy return to success
Three years after his last win, Julien Simon is once again on the road to success. It wasn't until the last moments of the race on Saturday afternoon that victory became apparent. The Breton racer gave it his all, attacking 500 meters from the finish line and resisting the sprinters' efforts to catch up on the gentle rise in the finishing stretch. He came in ahead of Alexander Kristoff (Intermarché WGM) and Jake Stewart (Groupama-FDJ).
"It was instinctive," he stated after the race. "At the briefing we envisaged a sprint more for Niccolò or Lorrenzo, but the circuit was more exhausting than expected. There was a moment of indecision in the last kilometer, and since I still had the energy I seized the opportunity to attack. It all worked out today, I'm really happy. It's always difficult to win in professional cycling so I'm savoring the victory. You have to enjoy these moments. It's done me a lot of good, I hadn't had a win for ages. You should never give up."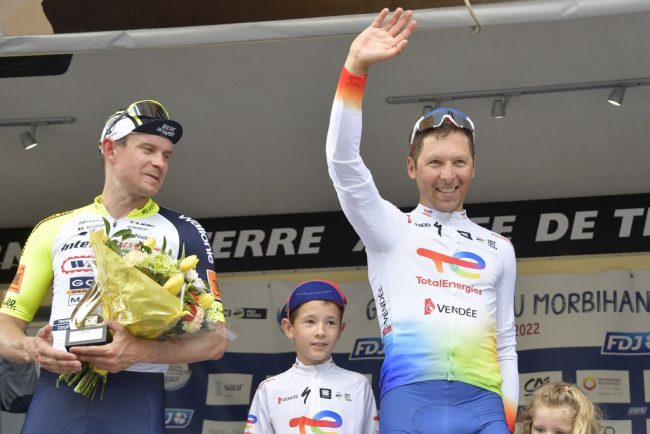 Feeling at home
Brittany is a propitious playing field for Julien Simon. Since the start of his career, the Rennes-born racer has won on his home ground five times, including the Grand Prix du Morbihan three times, making him the record-holder for victories in this competition (2012, 2014 and 2022).
"I hadn't been particularly successful since I joined the team. I did a lot of soul-searching, because it isn't easy to have a long losing streak.  I was feeling strong after the Four Days of Dunkirk. It was very moving to win on home ground with my family and my children close by."
A 100% Breton weekend
The weekend of races continues today with the Tro Bro Léon, which Julien Simon is raring to discover.
"I hope to do well again today in the Tro Bro Léon, a race I've never competed in before. We're aiming for the best possible result."