Ultimum, a partner since 2009!

Since 2009, the racers on Jean-René Bernaudeau's team have used Ultimum's dried fruit pulp in 70g pouches. These are now available in two versions: Ultimum Sport (with added sugar and vitamin B1) and Ultimum Oxygen (plain pulp). Ultimum's ranges provide maximum energy as well as three major benefits: digestibility, natural goodness and flavor!
Ultimum products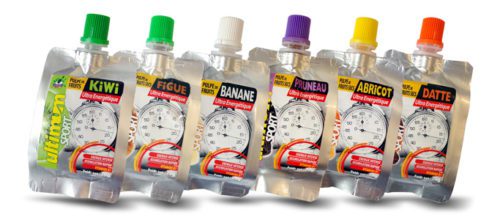 Ultimum pouches were the very first dried fruit pulps available.
Sport requires an appropriate diet, more or less rich in carbohydrates, depending on the force or the performance required. Ultimum pulps by Les Fleurons are made from real dried or unprocessed fruit. Their flavors and properties are entirely natural. Digestible and easy and practical to eat, they contribute to providing the right amount of energy at the right time, and facilitate recovery.
Three ranges are available:
– Ultimum Sport : with added vitamin B1 and cane sugar, they contain 60% carbohydrates. Along with the saccharose contained in the cane sugar, they provide fructose and glucose. An Ultimum Sport pouch corrects hypoglycemia very quickly thanks to the glucose, and its effect lasts for about 1 hour 30 minutes thanks to the fructose.
– Ultimum Sport Mix : the Ultimum Sport Mix range differs from the Ultimum Sport range only by the addition of a "super fruit" (goji berries, cranberries, blackcurrants, etc.) to the fruit or dry fruit pulp. This adds significant quantities of antioxidants, which slow down muscle fatigue by protecting against the action of free radicals.
– Ultimum Oxygen : has no added carbohydrates. Made only from fructose, a medium-acting carbohydrate used to avoid peaks in blood sugar levels.
Where does Ultimum come from?
The terroir and natural products have been core values for Les Fleurons ever since it was founded. Starting out as a prune producer, Les Fleurons diversified by selling dried fruit selected for quality of flavor and for the farmers' rigorous orchard management. Great importance is attached to selecting the fruit, which is also used for the Ultimum pouches. Les Fleurons scrupulously adheres to a consistent approach for all the fruit in the Ultimum range, and is constantly attentive to its sports customers in order to offer new products in line with athletes' expectations.