Mathieu Burgaudeau accomplished a true feat during the sixth stage of the Paris-Nice. The cyclist from Vendée had his first professional win, and on a World Tour race to boot.
Where everything changed
The sixth stage of the Paris-Nice played out on the Lascours uphill stretch, nine kilometers from Aubagne. This was where Mathieu Burgaudeau decided to take control with a sudden attack. From that moment on, he engaged in a head-on duel with the peloton led by the sprint teams. Four kilometers from the finish the lead had widened to twenty seconds. But after two more kilometers, it was halved owing to an unfavorable wind. On passing the red flag signaling the final kilometer, chances seemed to be very slim indeed.
Relief
The final kilometer was no doubt the longest of his young career as the vanguard of the peloton behind him drew dangerously close. At the end of a nerve-wracking finishing straight, Burgaudeau finally managed to maintain a few scant meters' advance over the rest of the bunch, raising his arms ahead of Mads Pedersen and Wout van Aert. Relief! Once over the line he gave way to his exhilaration before being congratulated by his team-mates. Pure elation.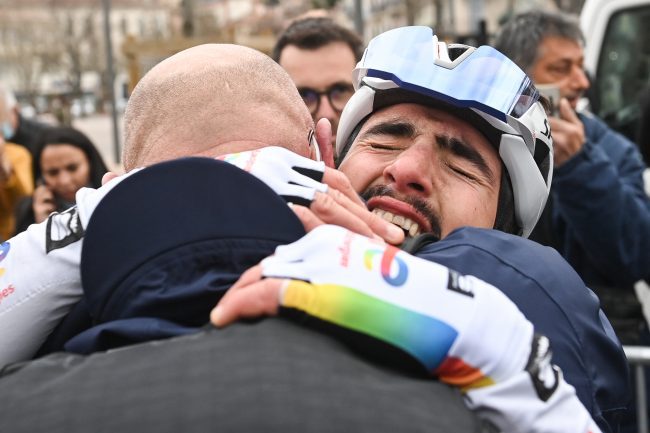 This first victory will undoubtedly be followed by others.
Mathieu Burgaudeau has passed a milestone in his career since the end of last season. His latest results showed his progress, but he still had to start winning. For Burgaudeau, his first victory will always be particularly memorable. This pure product of Bernaudeau's organization, who trained at the Centre Régional d'Entraînement et de Formation at La Roche-sur-Yon and with Vendée U, pulled it off in an impressive manner.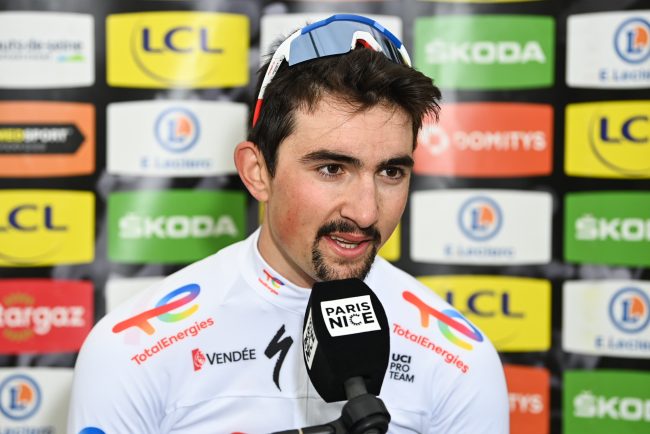 The champion's reaction
"I still can't believe it. The attack in the finishing stretch was not planned. I felt that my legs were strong. I really didn't want to have any regrets. I've too often lacked self-confidence. I'd promised myself that I would stay focused on my effort and not turn round. It was too tempting to take a look at the last bend to see where the peloton was. I saw I had the lead needed to go for it. Then I gave it my all. I'm so happy"