The Tour de France has been the stage for some of Team TotalEnergies' greatest success stories. The Vendée formation will have the opportunity to open a new chapter this summer by competing in the world's most legendary cycling race.
This morning Amaury Sport Organisation officially published the list of teams selected to participate in the next Tour. Team TotalEnergies will be part of the adventure, which will start on July 1 in Copenhagen. During this global event, the main goal of Jean-René Bernaudeau's men will be to sweep up a stage win.
"A Tour that's going to be spectacular"
"I spoke to Christian Prudhomme on the phone yesterday, and I must say that it's always nice to chat to him," said Jean-René Bernaudeau, the Team's General Manager. "The Tour de France defines bicycle racing. So we're immensely proud to be able to take part in it. Looking back, we've always been very involved in the Tour de France, with our yellow jerseys and wins. Winning a stage is always an achievable goal. We have leaders like Peter Sagan, Pierre Latour and Anthony Turgis in our ranks, who know the Tour well. We have a good group to start off this 109th edition, with true Classic racers. This Tour is going to be spectacular! It's up to us to tackle the event in the best possible conditions"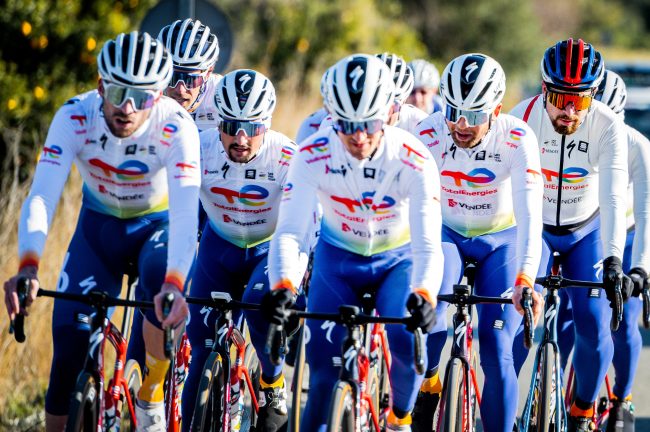 A promising early season
Team TotalEnergies has been looking great since the start of season. Even though they haven't scored any wins yet, the effort put in is highly promising for upcoming fixtures.
"The arrival of Peter Sagan revived a flagging group," recognizes Jean-René Bernaudeau. "It has created a good dynamic within the team. Our racers had a good winter with a bit of excitement, which has led to this good start to the season. If the team continues to work well together, it will start winning naturally."