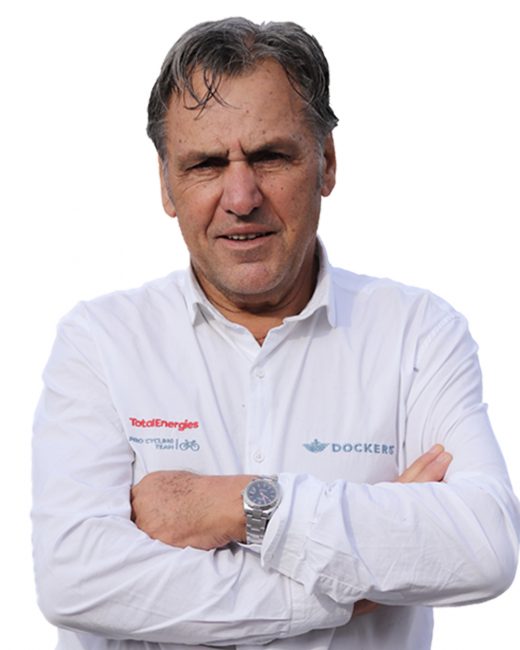 Jean-René, what are your conclusions about the 2021 season?
JRB: We feel as if there is unfinished business. We weren't able to achieve everything we wanted to because of a number of injuries. In spite of the difficult conditions, our racers fought to the very end to try to garner the best results. Our collective strength and our mindset have been major driving forces, in particular for the cobbled classics, in which we played a significant role with our leader Anthony Turgis. 
What ambitions does Team TotalEnergies have for this season?
JRB: The primary goal is not calculable; I ask the racers to work as a team, to be proud of themselves, to never give up, to cultivate our challenger's ethos, and by doing so to communicate emotion to our friends and family and to our supporters. This mindset ensures that we have fun and leads to good results.
In 2022 we will stay true to ourselves and our values, which we share with the TotalEnergies group. As I repeat each year, we must enjoy ourselves to do our job well. We constantly strive to project an exemplary image of cycling by treating the racers, their families, the partners and the race organizers with consideration.
To come back to the sport itself, I would say that we'll be looking to set the record straight and are determined to prove ourselves. We've been incredibly lucky to pull together a lineup like this. A manager's main aspirations are to shine a spotlight on the team and to sweep our fans off their feet.
The arrival of Peter Sagan, with his kindness, charisma and stature, is really driving us to achieve great results this year. You can feel that the racers are almost euphoric, and impatient to pin on their next race numbers. The key to it all is enjoying ourselves to do our job well! We'll be offering cycling that people can identify with, offensive cycling with our leaders, who really embody this philosophy. I'm thinking particularly of Anthony Turgis in the cobbled classics, Niccolò Bonifazio in grouped finishes, Pierre Latour for stage races, and our young recruits Mathieu Burgaudeau, Valentin Ferron, Sandy Dujardin and Alan Jousseaume There is no reason why this season should not be exceptional. We're going to achieve great things…
Does the team still have the same entourage?
JRB: On the technical front, we now have the support of Specialized and CeramicSpeed, whose expertise is a significant contributing factor to our racers' performance. We have also acquired a new kit supplier, Sportful, which has designed the superb strip that our racers will be proud to wear. We are moving forward with new technical resources so that the racers can fulfil their potential.
As far as sport is concerned, we will continue to emphasize performance with our researchers and coaches in collaboration with the Sports Directors. The latter are being joined by a new member, Ján Valach.
And for communication, our friends at TotalEnergies continue to share the team's behind-the-scenes moments with fans on the website, through videos, and on social media.
Are you secretly dreaming about a particular victory in this new season?
JRB: Any win is amazing and all our racers deserve to raise their arms in victory. But it's no secret that we would be delighted to add a cobbled classic to the team's wins, and bolster our record of Tour de France stage victories… We have a well-balanced, ultra-professional team that deserves an exceptional season. We're going to do our utmost to create lasting memories for people…