What a display at the Tour du Rwanda! Sandy Dujardin sprinted to victory in the first stage for the first time as a pro.
A well-deserved first
On his fourth day of professional racing, Sandy Dujardin has already scored a win. The season has got off to an excellent start for our neo-pro, thrown into the deep end by Jean-René Bernaudeau in January. Particularly notable were his breakaways at the Clàssica Comunitat Valenciana 1969 and the Grand Prix Cycliste La Marseillaise, as well as his third place at the Kigali prologue.
A champion sprint
The team worked all morning to ensure that Sandy Dujardin could fulfill his potential. His three team-mates did a brilliant job of going after breakaways. The last of the break was caught not far from the finishing line, before Sandy overtook Axel Laurance and Jhonatan Restrepo. Arriving in the midst of the peloton, Alexandre Geniez kept the yellow jersey won the previous day at the opening time trial.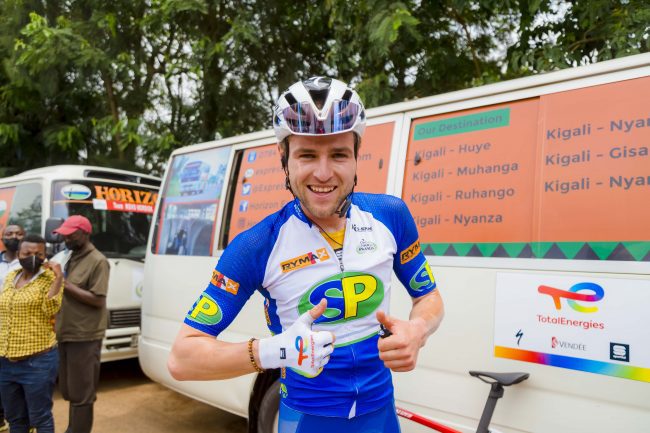 "The desire to do well"
"I had the idea in the back of my mind that I would gain a victory here in Rwanda", Sandy Dujardin told us after the race. "Now I have, and it's a great relief. Nothing could have been better than these two consecutive wins. Alan and Paul did a great job all day riding behind the breakaways. I really wanted to finish off the team's job. I was under a bit of pressure like all the other racers, but you have to be able to use that positively. We're going to do everything we can to score more wins this week. From a personal point of view the season's got off to a great start, and I hope it's going to continue that way."