The 2022 season ended in Italy on Sunday. Here's our summary of the year's performance, with Benoit Genauzeau, Sports Director at Team TotalEnergies.
A strong team
"The first thing I want to say is it's a great performance," said Benoit Genauzeau. It's true that the results speak for themselves. With Dries van Gestel in front, followed closely by Julien Simon and an impressive team, TotalEnergies enjoyed a glittering season, clinching fifteen wins, including four on the World Tour, to say nothing of all the podium finishes. A great source of satisfaction for the riders, the staff and the fans.
"There's a real sense of a job well done and plenty of pride in what the lads have achieved since the first race. The riders and staff never let go of that mutual commitment. The fact that we've got eleven different winners is proof of how well they work as a team."
Looking past the excellent results, we see that those who work outside the spotlight turned in a fine performance too:
"We're very happy with the work of our performance unit, which consistently developed and improved our performance plan without jeopardizing our strong attack."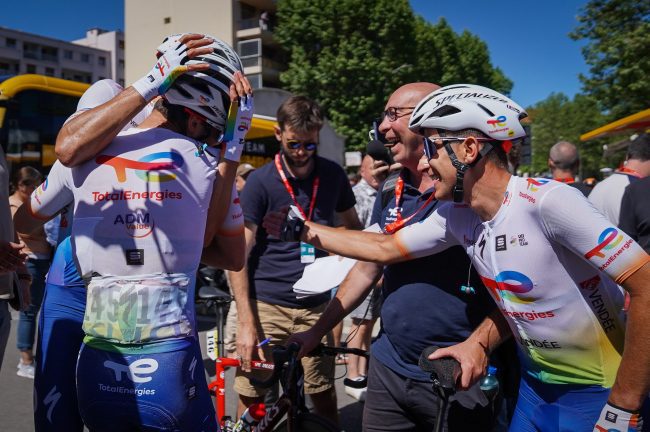 Two unlucky but still ambitious leaders
Seasons have their downs as well as their ups, and two of our major leaders had some bitter downs this year. After a perfect start to the Classics campaign with a second-place finish in the Milan-San Remo, Anthony Turgis then suffered a series of crashes, preventing the French vice-champion performing at his best.
"Some years you manage to get through, but not this time."
Peter Sagan also had his share of setbacks. Our new recruit's season got off to a slow start with a bout of Covid-19. Despite this, he was able to claim victory in the third stage of the Tour de Suisse, part of the World Tour. He followed this up with a fine seventh-place finish in the World Championships in Australia.
"We've got real hunger for next year! Peter ended the season well with a good final performance."
Our two leaders now have their sights firmly set on next season.
The younger riders are raring to go
Training is very important in the team. What can be better than to see the young talent shine on the world stage? Mathieu Burgaudeau and Valentin Ferron were truly first-class in this season's events, and even claimed a first-place finish in a World Tour race.
"We have managed to strike the right balance between developing the team according to the performance plan and maintaining that vital insouciance that is typical of our riders, as displayed by Mathieu and Valentin's victories."
The newly professional Sandy Dujardin and Alan Jousseaume were also looking good. Sandy fought his way into the top ten on several occasions and claimed the first win of his professional career.
"We're very proud of the success of the younger generation to emerge from our training program. To say nothing of the two interns who gave us their support at the end of the season. Mattéo Vercher excelled with the Vendée U in 2022, and ended up with a podium place in a world-class event, when riding for the team as an intern."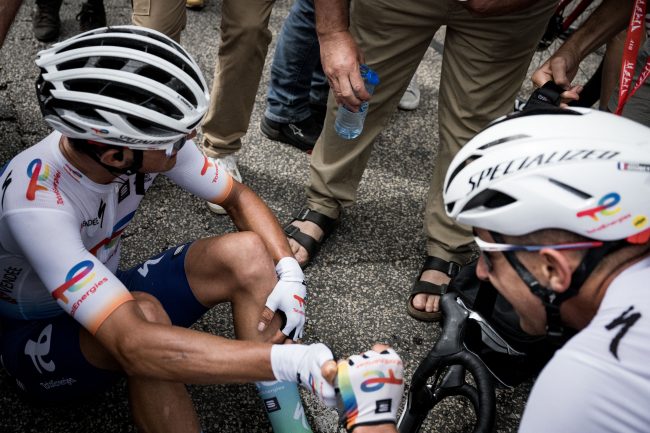 The vital importance of transmission
To support these young riders, the team had plenty of experienced cyclists. Julien Simon and Alexis Vuillermoz are two excellent examples. Sparing no effort and always ready with reliable advice, they both enjoyed an outstanding season: Alexis claimed a stage win and the yellow jersey on the Critérium du Dauphiné, while Julien took three wins and the French Cup. Success on every level.
"There's a balance to strike between experience and youthful insouciance," says Benoit Genauzeau.
What about 2023?
"We want to continue to innovate to meet the different challenges ahead of us, but we also want to  build on the performance drivers that we've acquired. So we're looking to innovate and we've got lots of projects for next season…"
Lastly, Benoit Genauzeau wanted to pay tribute to the riders who wore the Team's colors with pride and are heading to new pastures: "We would like to thank the Team's riders who have returned their jerseys. I'm thinking of Niki especially, who gave so much of his exceptional expertise to help us develop our project."