Mattéo Vercher came in third in the Giro del Veneto, for his first top-3 finish as a pro. Here's a look back at this memorable day.
From the Breakaway to the Podium
Mattéo Vercher just keeps on winning! After taking home the France Amateurs Champion title last June, the Team TotalEnergies intern found himself among the top 3 at the end of the Giro de Veneto on Wednesday. This career first was a testament to his mental toughness. Mattéo had already been part of the morning breakaway and managed to withstand Miguel Angel Lopez's burst of power in the final climb. Five riders still had a chance at fight for the finish. In the end, Italy's Matteo Trentin of UAE Emirates made the difference and won the 85th edition. Mattéo Vercher crossed the line 2 seconds later, just 1 second behind Rémy Rochas. What a performance!
"A Mental Combat"
Mattéo Vercher shared his thoughts on the emotion-filled day:
"It's a big surprise. If you'd told me this morning, I'd have signed right away. I took part in the breakaway for my own pleasure, and in the end, I was able to turn that into an excellent result. I was able to keep up with the best and fight for the finish. It was surprising, but I'm really thrilled. Clearly, my mindset carried me through. At the last rise, I had an eye on my rivals and I kept pace as soon as they took off. I didn't want to give up after the day I'd just had. I gave it my all to keep up with the strongest riders. The combat was more mental than physical for me, because the little voice in my head could have stopped me. I just put the names of the riders around me out of my mind and told myself I had a chance. I was overtaken in the last kilometer, but still ended up in the top 3. It was a marvelous surprise."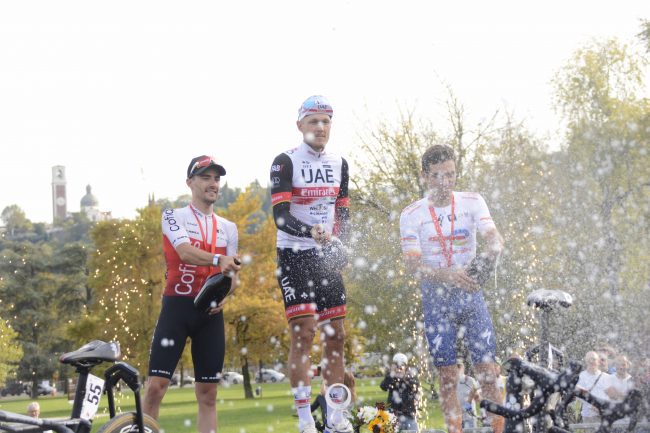 "Keep My Feet on the Ground"
"It's a good sign for the future, and it will motivate me to train hard this winter. I'm not at the level of the top riders, but it's important to continue working and keep my feet on the ground. This Italian week was a personal success. I'm going to do everything I can to help Alexis Vuillermoz during the Veneto Classic this Sunday."