In the second stage of the Tour de France, which took place in Denmark, the race was decided by a bunch sprint, with Peter Sagan involved in the final tussle.
The challenge of the Great Belt Bridge
After the rain, the sunshine. Yesterday's apocalyptic weather gave place to brilliant sunshine. Perfect conditions for the first racing stage of the 109th Tour. The route promised to be exciting, with the crossing of the famous Storebaelt bridge, and a big crowd of locals come to encourage the riders!
"I knew cycling was a popular sport in Denmark but honestly I didn't expect what we witnessed today. An incredible and noisy crowd lined the entire route, from start to finish." nous a confié Peter Sagan après l'étape "An incredible and noisy crowd lined the entire route, from start to finish. I'm sure if spectators were allowed on the bridge there would be thousands of them there too!"
At the beginning of the stage, four groups managed to break away from the peloton to take the first points of the mountains classification. The last rider of the breakaway was caught 31 km from the end, shortly before the bridge.
On the approach to this unusual stretch, tension started to build among the riders keen to position themselves at the front of the peloton. But the course was disrupted by a fall 20 km from the finish line. Anthony Turgis came off his bike, but was able to make it back to the bus on time. X-rays found no damage to his bones.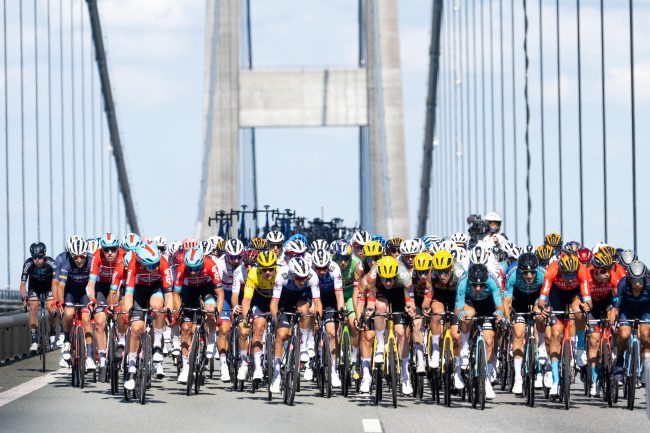 Bunch sprint in Nyborg, with Peter Sagan at the front
On the 18 km bridge, the peloton found itself riding into a headwind, foiling every attempt at a bordure. So the last kilometers saw a huge final reckoning. At the red flag signaling the final kilometer, the sprint teams were in position to support their leader. For TotalEnergies, Peter Sagan managed to defend his position in the front runners, finally finishing sixth in the first bunch sprint of this year's Tour.
Fabio Jakobsen claimed victory for Quick Step-Alpha Vinyl, a first win for him in the Tour de France. And after coming in second, Wout van Aert was able to put on the yellow jersey for the first time in his career.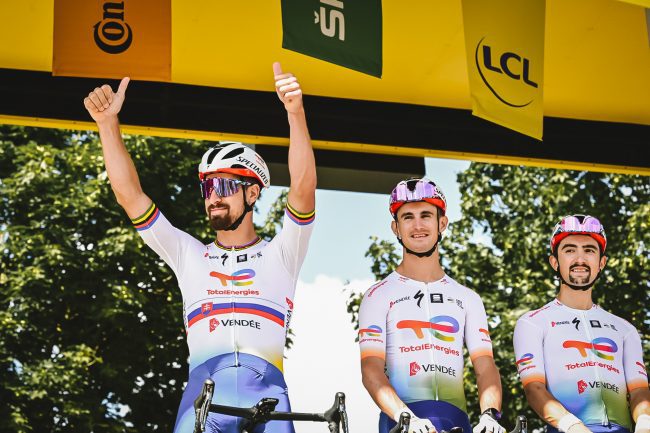 Peter Sagan: "Finishing in sixth place is very encouraging"
"The stage was flat, without any major difficulties, but in the last 30 kilometers, the peloton was particularly nervous, with many crashes. It was essential to be placed at the front of the peloton, well protected and surrounded by my Team TotalEnergies teammates who did an exceptional job in keeping me safe from the crashes. I was well-positioned for the final sprint and I believe that the 6th place obtained is a sign that the progression of my physical condition is on the right track. However, we must still remain cautious and keep working hard every day."