Team TotalEnergies and Vendée U are proud to announce that Mattéo Vercher has been officially signed for two seasons. Mattéo will join the ranks as a professional starting January 1.
The dream lives on for Mattéo Vercher
On the heels of signing Emilien Jeannière and Thomas Bonnet, Team TotalEnergies is hailing the arrival of a newly-minted professional from Vendée U.  For Mattéo Vercher, the dream continues! He's signing his first professional contract with the Vendée line-up two months after being crowned France Amateurs Champion.
"I'm not the expressive type but obviously I'm extremely pleased about this. Ever since I started in cycling I've had only one goal in mind and that was to go pro. It's real recognition and it caps off an enormous amount of work. I told myself after winning the title that I could hope for more to come."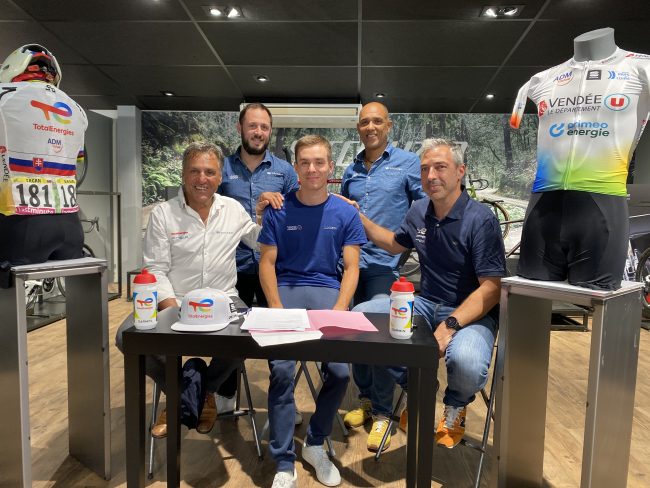 Vendée U: a turning point
Mattéo has had a dizzying ascent since arriving at Vendée U this season. The young racer who took up cycling in Annecy 15 years ago plans to continue this upward momentum with dreams of a professional career.
"I joined Vendée U this year and that was a turning point for me." I felt emotions I'd never experienced in cycling. As a trainee with the Team taking part in the Tour de l'Ain, I had the chance to learn about what it takes to be a cyclist at the professional level. That made me want to go further so I could meet the mark and perform. I'm not going to ease up on the pressure, far from it. A career only lasts a certain amount of time and you need to know how to savor it. Everything I've accomplished to this point I got by being rigorous and training a lot."
A line-up that's paying off
Sports Director Benoit Genauzeau is delighted that he can count on a new racer from Vendée U next year: "We're very pleased to be welcoming the France Amateurs Champion to our ranks. We're also really proud of the impressive training campaign run by Vendée U for many seasons now."
This evening the current Team TotalEnergies trainee sets off for the Tour de l'Avenir in La Roche-sur-Yon with the Loire team.