Team TotalEnergies is pleased to announce the arrival of Jason Tesson. The French sprinter will join the Team from St Michel-Auber 93 and will sport the TotalEnergies colors for the next two seasons.
A promising young sprinter
Born in Angers, Jason Tesson started cycling at the age of three and a half in his grandfather's team, the GPCA. He then joined CREF Cyclisme Pays de la Loire where he met two of his future team-mates, Mathieu Burgaudeau and Emilien Jeannière. He completed his training at Sojasun and finished first in the French Amateur Championship in 2020. Claiming this title had a huge impact on his career, as he then followed up with his first professional contract at St Michel-Auber 93.
He is one of the smartest French sprinters of his generation, and his stats speak for him. At the age of 24, he already has three impressive wins on his resumé: the second stage of the Tour Poitou-Charentes (2021), the first stage of the Boucles de la Mayenne (2022) and the second stage of the 4 Jours de Dunkerque (2022).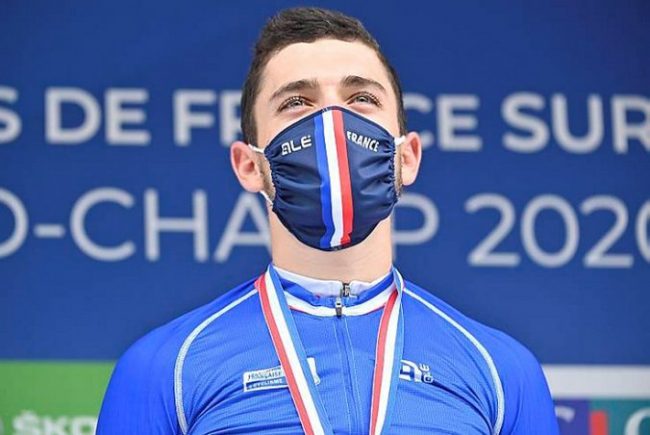 TotalEnergies, from the heart
Jason Tesson gave his first interview to the team's press unit. He talked about his decision and his ambitions with Team TotalEnergies.
Why did you choose Team TotalEnergies?
I really followed my heart. I've been supporting this team since I was a kid. At the time it was La Boulangère, then Bouygues Telecom and then Europcar. My hero was Damien Gaudin who spent almost his entire career with this team. As soon as I heard from Jean-René, I'd made up my mind.
What are your ambitions?
I want to find my place on the team as fast as possible so that I can focus properly and perform well. I want to help the team as much as I can and win races. Personally, I also want to compete in the big World Tour races to open a new chapter in my career.
Have you already got friends on the Team?
I know some of my new team-mates. For example, I met Mathieu Burgaudeau and Emilien Jeannière at Cyclisme Pays de la Loire, and Valentin Ferron in the national under-23 team. Alan Jousseaume and I have already been on vacation together. And I'm keen to meet the others!
What should we wish you for the next two seasons?
To win as much as possible. That is my ultimate goal!