After winning a gold medal in the relay race, Fabien Doubey earned another medal for the elite race this afternoon.
This time it was bronze, to round off the weekend.

Fabien Doubey ended the French Cycling Championships in third position, and will leave Liévin with another bronze medal two years after winning one in 2020. In the lead for a large part of the race, the cyclist from the Jura finally conceded to the future French champion, Joshua Dubau. Mechanical problems in the last lap prevented our racer coming second.
Supported by Anthony Turgis and Sandy Dujardin, Fabien Doubey has ended this weekend raring to go!
"The weekend had already got off to a good start with the relay award. Today the team was superb! Sandy, Anthony and I all stood by each other. There was a real team spirit. I started well by pushing hard in the first lap and was in the lead, but Joshua was much stronger than me in the running portions. We fought for second place in the last lap, when I unfortunately suffered mechanical problems. In the end I nonetheless won a very creditable third place. We all did justice to our new jersey!"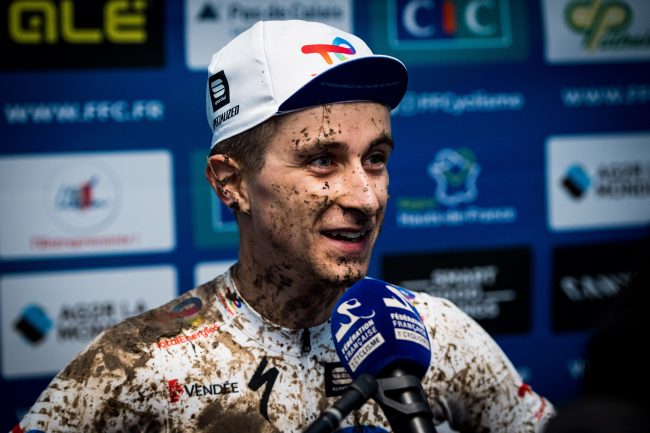 Time for the road
Cyclo-cross is a popular discipline among professional racers. Its arduous nature helps athletes prepare for their season during winter each year.
The main goal is intensive effort, which I need to arrive on the road on form. With cyclo-cross we have some very intense but fun sessions. Spending the winter like this is very useful for the rest of my season. Now I'm going back to Spain with the rest of the group to work on fundamentals. I'm already eager to pin on a race number," Fabien Doubey told us after the race.