Team TotalEnergies is adopting a unique jersey in 2022 to reflect its new ambition. Learn all about this new design developed in collaboration with our kit supplier, Sportful.

All about energies

As was the case for the 2021 season, the 2022 jersey is composed mainly of white, which emphasizes its other vivid colors.
This approach adopts the graphic feel and visual identity of TotalEnergies, the Team's major partner, and stems from a determination to gain greater visibility, as Damien Ricour-Dumas, Vice President, Brand and Advertising for TotalEnergies, explains:
"We're very proud of this 2022 version of the jersey, which highlights our new logo and conveys shared enthusiasm. Like the team, our Company is multi-energy, and from that point of view our brand embodies the major strategic transformation to which TotalEnergies is resolutely committed in order to become a world leader in the energy transition. Of course, this 2022 jersey promotes the presence of the team's other partners, and we're very proud to share this role with them."

The cycling shorts have also undergone a makeover. Electric blue has taken the place of red, and is a perfect match for the jersey.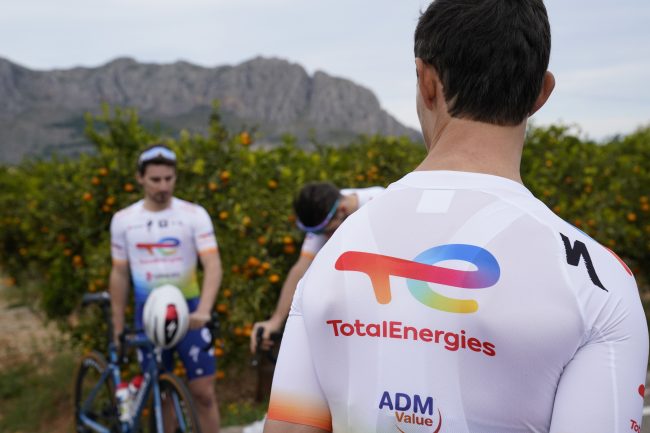 A new ambition
This season, the team is starting a new chapter in its life. With the arrival of famous kit suppliers like Sportful and Specialized, the team will benefit from new, cutting-edge products.
"Alongside TotalEnergies, we're welcoming new partners who are providing us with new technologies: the cyclists will be able to give full rein to their talent and our organization will gain in appeal and visibility," says Jean-René Bernaudeau, the Team's General Manager. "So it was important for us to be able to move forward with a jersey that reflects our sporting ambition. I'm extremely proud of the result obtained with TotalEnergies and Sportful, who have done some incredible work in terms of design and delivered a high-quality result. I'm sure that our racers, ambassadors for tomorrow's world, will wear this magnificent jersey with pride."

Peter Sagan, who will spearhead Team TotalEnergies in 2022, is clearly delighted at the thought of wearing the new design: "These colors make this bright jersey so cheerful. I really like it. It's an honor to be able to wear the Slovakian flag and I'm thrilled about it."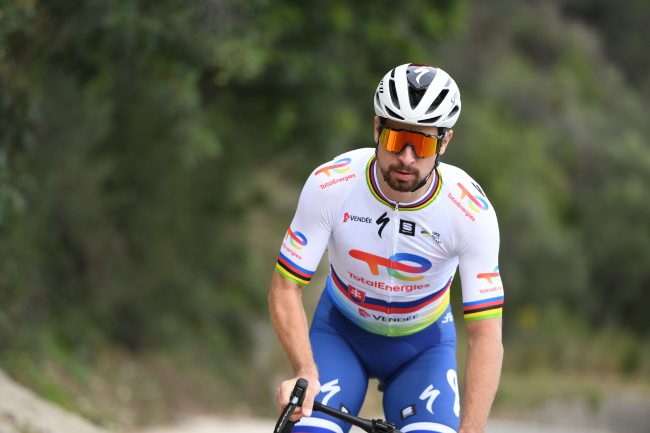 First race in Spain

The racers will have the opportunity to put this new design under the spotlight on January 23 at the Clàssica Comunitat Valenciana. By then, some lucky people might have spotted our athletes wearing the jersey on training rides in France or abroad.
Damien Ricour-Dumas enthusiastically runs through Team TotalEnergies' calendar: "The Team plans to take part in many races in the countries where we operate. In France, naturally, but also in a lot of other locations internationally (Spain, Belgium, and the Netherlands, as well as Rwanda and Saudi Arabia). The presence of Team TotalEnergies creates a sense of pride and belonging for the Company's employees and our stakeholders. We will always be happy to welcome the Team in any of the 130 countries where TotalEnergies operates, and all that remains is to wish them every success for 2022!"