Team TotalEnergies has officially extended Dries van Gestel's contract to 2024. The Belgian cyclist will have an important role to play during the Classics.
Looking forward to the Flanders Classics
After Anthony Turgis, another classics specialist has extended his contract with Team TotalEnergies.
"I am very pleased to continue my career with the Team. They are putting their trust in me and that makes me very happy. I will continue to wear this jersey with pride."
Since joining the Team in 2020, Dries van Gestel has always performed well in the classics. This season, the lad from Turnhout marked a new milestone, winning his first race in the team's colors (Ronde van Drenthe) and a first podium finish in a World Tour race, coming third in the Gent-Wevelgem.
"My goals are unchanged for the next two seasons in the Flanders Classics. I want to keep improving my performance on these races and get the best results I can."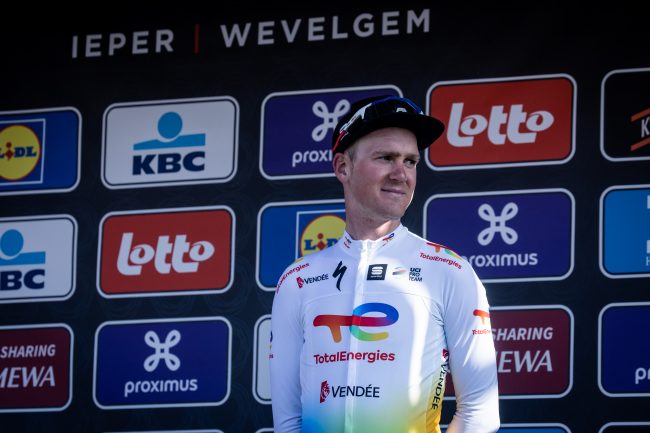 A secret dream
The Belgian rider feels quite at home in Jean-René Bernaudeau's line-up.
"I'm used to this team, my coach, the managers, the assistants. There's a real family atmosphere, and that's very important to me."
We asked Dries whether he had hopes of taking part in any other races apart from the Classics, and he told us that he dreams of being in the Tour de France. But before thinking about that, he will honor his first selection in the Belgian team at the European road cycling championships in Germany on August 14.